I am sure that many of you here can relate to the nervousness that is brought about by the first date. Even if you have been chatting online for a long time already, seeing each other in person for the first time can still send jitters. More often than not, you are unsure of how to act and the environment is often tension-filled. Both guys and girls have the inherent responsibility to make the date more interesting by finding a good topic to talk about. Avoid dead air as it will only make the situation more awkward. Keep on reading and you will know some tips on how to carry out a good conversation.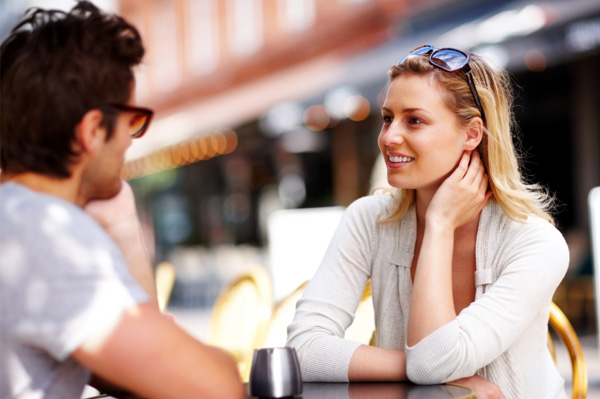 Do Your Research
A day or a few hours before you meet with each other, take a look at the profile of the other person again. Look at the things they find interesting, such as their hobbies and interests. Even if you have different interests, make sure to find a way to balance it out and still talk about it. If the other person is interested in traveling, ask him or her about the best destinations all over the globe or ask for the cities with the most good looking people. While researching is important, do not make it appear that you are heavily stalking the other person as this can be creepy.
Ask Questions
Most people, especially men, make the mistake of making the first date all about them. They keep on telling stories about their whereabouts when, in fact, the girl is not even interested in these things. With such, do not make yourself the center of attention or the only one that matters. You should learn how to ask questions. Asking her about how was her day can do a lot to set the mood and show that you care. Nonetheless, make sure the questions you ask are relevant. In some instances, because of nervousness, some people accidentally ask questions out of nowhere that do not make any sense. Make sure to avoid such from happening.
Avoid Debate
Talking about politics, religion, and current events amongst other, should be avoided because they can fuel intense conversations that can lead to arguments. Since it is your first date, the goal is to make each other feel at ease and not to argue. If you talk about politics, for instance, and if it happens that you are supporting different groups, you might end up fighting and the date will no longer have a pleasant ambiance.
Be Respectful
This is another conversation tip that is most relevant for guys. Be a true gentleman and know how to handle the conversation in a manner that does not disrespect the girl. Never open the conversation by talking anything about sex. Even if you met on a hookup site and the goal is to get laid, there are surely other better ways to start the conversation. More so, you also need to accept the opinion of your date and avoid being in an argument. You should not also say anything that might offend the other person, such as when it comes to weight.