While you have joined adult dating sites for the purpose of finding a stranger who is interested in casual sex, this does not mean that they have the right to be rude to you. Girls, it is important to be dignified when using these sites and show men that you command respect and you deserve to be respected. If you give them indicators that they can disrespect you, do not be shocked when you are flooded with messages from men thinking you are a slut. By doing the things that will be mentioned below, you can show these rude men that you are still a woman and before they even get your YES when they ask you for sex, you first have to be treated like a real lady.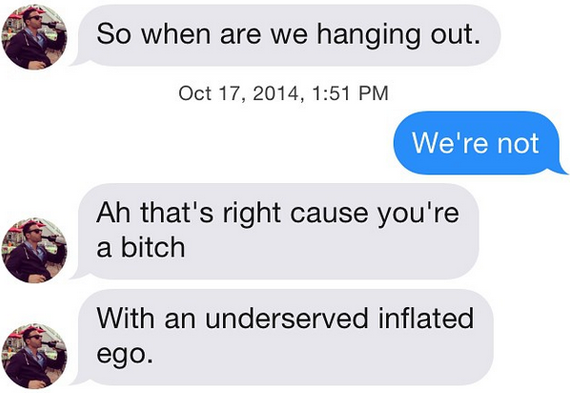 Ignore Them
This is one of the most powerful ways to respond to men who are being rude in online dating sites. Once you receive a message that you feel is offensive on your end, do not even bother to reply. This will be nothing but a waste of time. Dealing with losers can just make you a loser as well. Also, when you show them that you are offended, they might just be fueled to offend you more knowing how weak you are when it comes to guys tripping around. In the end, you may just lose your temper and you might act equally rude. To avoid such from happening, just focus on the positive side. Ignore negativity and only respond to messages that let out a positive vibe.
Play the Game
A total opposite of the reaction discussed earlier is to play the game. If they send you a message that is rude, reply with something that is even more offensive. While this may not always work, this is perfect for ladies who are empowered and who like to take a stand. In one way or another, if the guy is offended by your reply, it might be possible for him to realize his fault. If you've got a lot of time in your hands, just answer back with whatever offensive words he can throw at you. Do not make these guys feel that they have the right to be rude.
Report Abuse
As a way of offering the best user experience, most hookup sites have a feature that will make it easy for you to deal with rude members. For instance, some would allow you to block them, which means that they can no longer access your profile and they will not be able to send you a message. There are also some wherein you can report abusive members and the administrators will take the appropriate measures to investigate the issue. If they have indeed proven that the member is acting beyond the acceptable conduct, he might be totally banned from using the site. Again, this will depend on the specific site you are using. Make sure to exert effort in picking which site to choose so that you will be provided with various options on how you can deal with rude members.